What I would Recommend Based on Opportunities Lost
Though I've been out of electoral politics for a long while, from time to time I plan on giving my party's current candidate for President, John Kerry a few strategic recommendations on how to run a successful campaign.

If I had it to do all over again, I'd have to say that I should have personally killed some Indians, basically because, you know, "all the cool kids are doing it."
My predecessor, Andrew Jackson -- hero of the Battle of New Orleans, but also accomplished slayer of the red man.

I hear some of you out there saying, "but MVB, you killed lots of Indians."

Yes, my administration executed the order to forcibly move 18,000 Indians from Georgia to the Indian territories, Trail of Tears yada yada, lots of them died. And sure we fought a very unpopular war with the Seminole Indians down in F-L-A as Lou Reed use to say. But I'm talking about a more personal, kind of violence.

I mean for Pete's sake what did my VP Richard Mentor Johnson ever do? Hick from Kentucky becomes Vice President all the time right? NOOOOOOOO, the dude claimed to have personally shot Chief Tecumseh at the Battle of the Thames. Well, he must have done something else right?

Not a god damn thing.

The SOB said, "Well, I shot an important Indian, I'm done like dinner, I ain't doing anymore anything, I'm just gonna sit back and see how far this shit takes me.

The DB ends up VP.

William Henry Harrison, I beat the crap out of him in 1836 because the idiot couldn't remember to ask Daniel Webster of his own damn party to not run against him -- effing Whigs.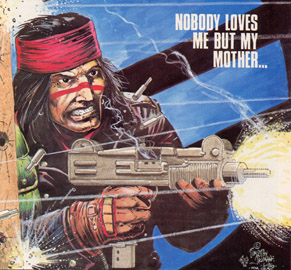 1840 rolls around, Will Double H smartens up a bit and runs the, "Sorry I forgot to mention it 4 years ago, but man have I killed a lot of Indians" campaign -- MVB gets his ass handed to him.

So in conclusion, John Kerry I recommend you start killing Indians. I mean you don't have to pull a James Madison (Father of the Constitution) and conclude every campaign speech with, "And now the part of the speech where I shoot an Indian," but one or two couldn't hurt.

I have heard some rumblings about killing some "Viet Cong" which may or may not be some kind of Algonquin, but then again it just might be one of those made-up-word, namby-pamby, homo-erotic boys clubs from Yale, which wouldn't be nearly as impressive as say an Iroquois.

Can I kick it?