Talentless bungholes enjoy wasting money
Timothy Murphy who didn't catch roided baseball phenomenon Barry Bonds' 700th career homerun, but did attempt to secure ownership of it with his fat ass and part of his right leg is suing the equally talentless Steve Williams who is now in possession of the mildly historic baseball.

Williams similarly didn't catch the ball, but did manage to pick it up off the ground, despite the similar attempts of other fans, including Murphy and his huge ass.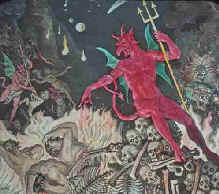 Reached for comment on the situation in hell, Tiger's hall of famer Ty Cobb noted, "I hate Negroes. They ain't got no smarts and shouldn't be playing my god damn baseba... AHHHHHHHHHH THE EXCRUIATING PAIN OF HELL FIRE, AHHHHHHHH! IT BURNS, IT BURNS."

Apparently, Murphy, who has been informed that, "possession is 9/10ths of the law," enjoys wasting his money on pointless litigation. He has previously attempted to sue his ex-girlfriend for eating the last onion ring, his neighbor for parking in the "good" street spot and his mother for, "not loving him as much as my brother Gary."

Sounds like a grade-A douche to MVB.

While your rap crew's on steroids lookin like Full Force

Your girl she's buffed, puffed, in daytime don't play rough