Don't let the door hit your ass on the way out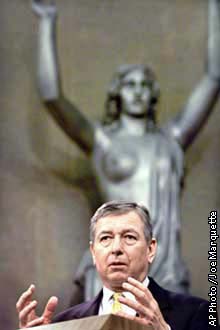 Attorney General and mondo-prick, John Ashcroft has "decided" to leave the justice department, saying it needed, "fresh inspiration."

Ashcroft said he first truly considered leaving the Bush administration when after last week's election, Dick Chaney kicked him in the nuts and said, "get the fuck out."

Beltway speculation suggests that former Deputy Attorney General Larry Thompson is the front runner to take over the nation's highest law enforcement position.

However, this writer thinks pundits and everyday Americans would be wise not to count Beelzebub out of the running.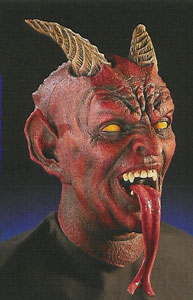 Born in the inky-darkness of pre-historical hate and evil, Beelzebub, also know as "the lord of the flies" and Achor to the Cyreneans earned a law degree from Pepperdine and also holds an undergraduate degree in interdisciplinary studies from The Ohio State University. Currently licensed to practice law in Delaware, Beelzebub splits his time between this world and the next and is considered one of the leading experts on the contractual transfer of souls.

Reached for comment at his bi-monthly luncheon for war mongers and other miscellaneous purveyors of hate and suffering held at the Chi-Chi's in Dupont Circle Beelzebub noted, "I think being Attorney General would be a hell of an opportunity – I mean it's not like I don't already know what's going on there, but that corner office is hela-nice and the benefits are tits."

God show me the way because the Devil trying to break me down