So what? I won the Mr. Kinderhook hot buns contest from 1815-1827
People magazine named Jude Law the sexiest man alive in its latest issue.

Big freakin' deal. I mean how many men are even alive? Maybe 3 billion?

What kind of wiener competition is that?

The sexiest dead man award -- now that's a competition baby.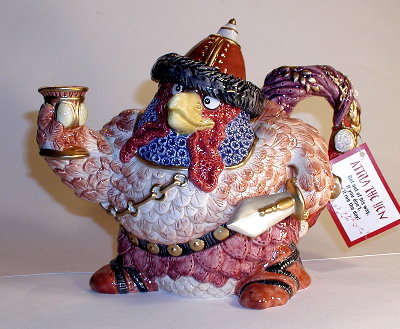 Believe it or not the sexiest dead guy for 2004 was first time winner, Attila the Hun.

Who knew he was even mildly attractive?

Apparently, underneath that whole leathery-barbarian-warlord exterior beat the heart of a real Hungarian hunk.

Best known for his campaign of terror and conquest in western Europe in the 450's, Attila also really likes goat milk baths ("good for the complexion," claims the Hun) and long walks on the beach.

Attila's victory is considered somewhat of a coup, considering the recent hype around Alexander the Great and perennial favorite, John F. Kennedy.

"I usually poll so well among dead people," said Kennedy, "I really don't know what happened."
The awards were of course not without controversy. For the 1,971 year in a row Jesus was denied eligibility in the contest.

"It's either because of the whole resurrection thing or because the eligibility committee hates Jews," said the messianic ex-carpenter.

"But then I thought, what would I do? So I forgave them, natch. That's how I roll."

Son of God yes, but also one HELL of a good sport.

Even now sexiest dead guy prognosticators are already speculating on who will win in 2005 and they have their eye on an early favorite -- Confucius.

"He's been getting really buff at the gym lately and believe it or not, he's shaved off the beard!" Said long time friend and Han Dynasty Court Historian, Sima Qian. "It's totally crazy, imagine one of the ZZ Top guys took off his beard and a young Paul Newman was under there -- that's the kind of change we're talking about.

Down at the chop-chop, 600th and Rock
Crazy as a fox trying to rob Fort Knox